850 A1A Beach Blvd., St Augustine, Florida     32080
This slideshow requires JavaScript.
Check what is for sale at  Ocean Villas
COMPLEX: Direct oceanfront     LOCATION: St. Augustine Beach, Florida,    BEDROOMS : 2/2-3/2      NUMBER OF UNITS IN COMPLEX:  130    YEAR BUILT: 1986    1200-1300 SF    TYPE OF VIEWS: Ocean front,  NUMBER OF POOLS:  2       PARKING: uncovered     ELEVATOR: only back building    3 Level Complex   Concrete construction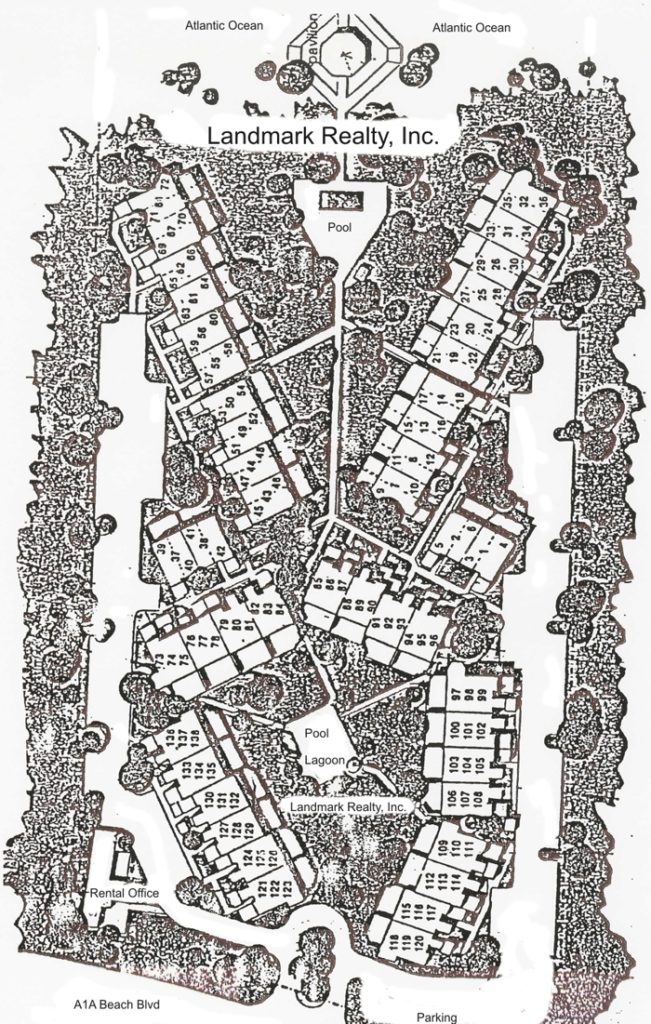 Ocean Villas Condominium
is located in St. Augustine Beach, Florida. There are 137 condominium units, built in 1982-84. Ocean Villas offers four floor plans, in either the townhouse (2 levels) or flat (1 level), ranging in size from 1200 – 1300 square feet. Each Ocean Villas Condominium has two or three bedrooms and two baths. The laundry is located inside each unit. Ocean Villas is a beachfront complex with ocean front condos, ocean view condos and non ocean view units.
There are two sections of buildings at Ocean Villas, lagoon buildings and the ocean front section. In the lagoon section, the buildings are in a circle shape, with the lagoon and pool in the middle. Winter visitors like to use the pool in the lagoon area because it blocks the cool breeze. Most of the three bedroom units are located in this area. This section has elevators, whereas the ocean front section does not.
If you were looking at the condo from above, you'd see that the ocean front buildings are arranged in a "V" shape. The only direct oceanfront units are at the end of the "V." The other units in the "V" have very good ocean views. Some of the second and third floor units have better views than some ocean front condos. In the ocean front section, there is a nice oceanfront pool with a gazebo and walkway to the beach.
At this time, there is an on-site rental office, or you may choose another off-site rental management company. We do not handle rentals. Amenities offered at Ocean Villas Condominium include: 2 pools
Ocean Villas Condominium are located in Saint Augustine Beach, Florida, on Anastasia Island. Anastasia state park is just north of Saint Augustine Beach. The park is about five miles of protected sanctuary, with the Atlantic ocean to the east and Salt Run to the west. There are no homes or driving on the beach at the state park. There is a campground at the park but camping is not allowed on the beach. There are lots of fun things to do at the beach, like swimming, fishing, biking, kite flying, volleyball and frisbee. Salt Run is known as a great place for wind-surfing and fishing on the jetties at the inlet.
Saint Augustine Beach is different than other beaches on Anastasia Island. It is an incorporated city. The St. Augustine Beach City commission has plans for a beach library, children's splash park and a beach habitat conservation project.
AIREAL VIEW        STREET VIEW         BEACH VIEW
Search Condos        $100-$200         $200-$300          $300-$400
GPS N29 50.243 W081 16.058